Today I decided to post the blog hops that I'm doing. I would love it if you would join in and follow with me! I hope you are having a TERRIFFIC Tuesday!!!
This one isn't necessarily a blog hop, but I thought I'd post it with my Tuesday blog hops because it happens on Tuesday, why don't you join in!!!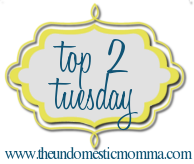 1. I love to cook: I may not be the best cook in the world and I'm not a fan of the clean up, but I love putting something delicious out for everyone to enjoy. I'm always looking for new and easy recipes.
2. I secretly want to coach a cheerleading squad: When my daughter started gymnastics, I noticed they have an all star cheerleading squad. I was on Cheer Athletics growing up and watching them is giving me the itch to coach. I guess this isn't a secret anymore. Maybe one of these days I'll apply to see if it's even a possibility.